Ready to improve your home?  Schedule a free consultation
Metal Roofing Services Madison, Wisconsin
At Prairie Exteriors, we specialize in providing top-quality metal roofing services for homes in Madison, WI.
Residents of Madison experience diverse climate with scorching summers, frigid winters, and everything in between.
At Prairie Exteriors, we specialize in providing top-quality metal roofing services for homes in Madison, WI.
This extreme weather pattern makes metal roofing an ideal choice for many homeowners seeking a durable, long-lasting and energy-efficient roofing solution.
Metal roofs are known for their ability to withstand harsh weather conditions, which is essential given the frequent snowfall, ice storms, and hail events that Madison experiences.
Additionally, metal roofs have a higher wind resistance than traditional roofing materials, ensuring that your home will be protected during strong wind events and reducing the likelihood of damage or costly repairs.
Reduce Your Energy Bills
One of the most significant benefits of a metal roof for Madison homeowners is its energy efficiency.
The region's hot summers and cold winters can lead to high energy bills for heating and cooling.
A metal roof reflects solar radiation during the summer, helping to keep your home cooler and reducing the need for air conditioning.
In the winter months, the insulating properties of metal roofs help to retain heat inside the home, reducing heating costs.
As a result, a metal roof can lead to substantial savings on your energy bills over time, making it a wise investment for those living in the Madison Wisconsin area.
Replacing Your Roof in Madison, WI?
When it comes to roof replacement, choosing a metal roof can provide long-term benefits that far outweigh the initial investment.
Not only do metal roofs have a longer lifespan than traditional asphalt shingles, but they also require less maintenance, which means lower costs and fewer headaches for homeowners over time.
As an added benefit, a metal roof can increase the resale value of your home, as potential buyers will appreciate the the benefits that come with having a durable, energy friendly, and low maintenance metal roof.
For those living in Madison, Wisconsin, investing in a metal roof is usually a smart choice. Call us today for a free, no obligation consultation.
Our roofing experts will answer any questions and help you decide which roofing option is best for your home.
With a range of styles, colors, and materials to choose from, our metal roofing solutions are designed to offer you unparalleled durability, environmentally friendly, and aesthetic appeal.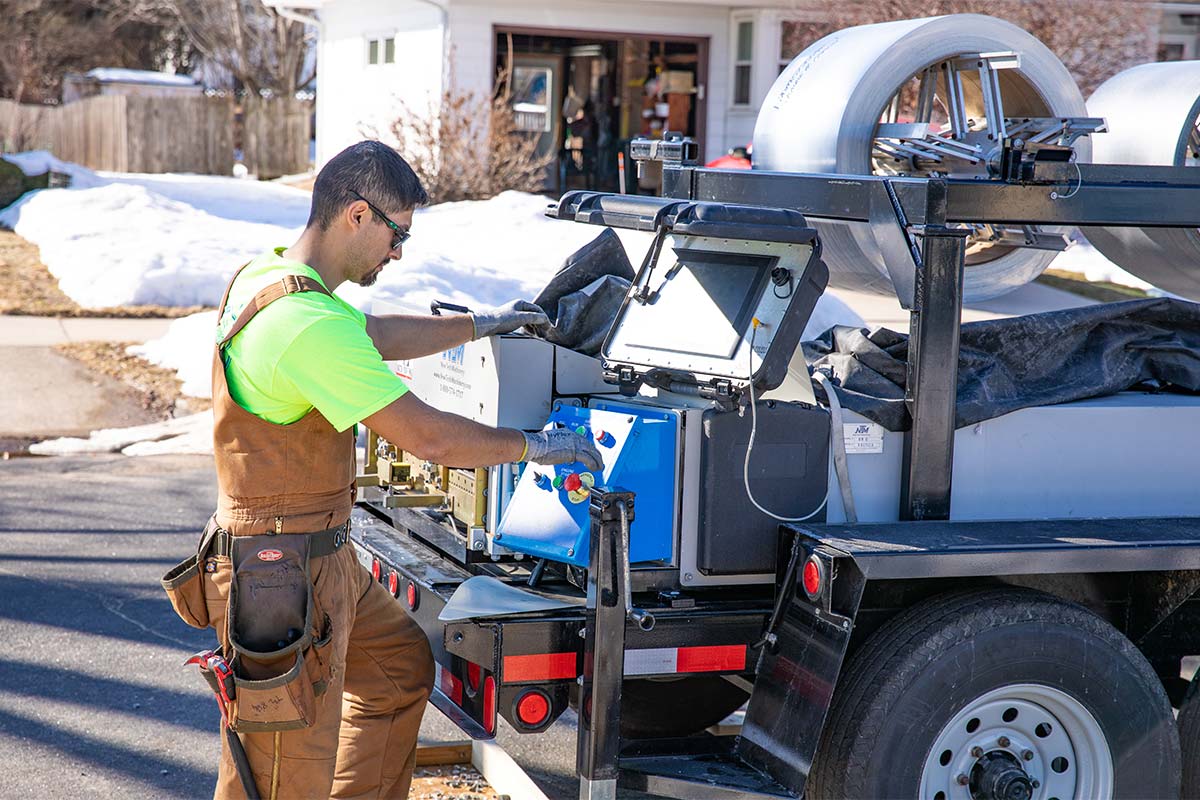 Why Metal?
Standing seam metal roofs are by far the longest lasting and most leak-resistant roofing option available. Standing seam panels are cut to length and are attached with clips recessed under the panel, eliminating the holes left by screws and minimizing the potential for leaks. Prairie Exteriors offers custom fabricated standing seam options in either galvalume or a wide variety of colors.
Metal roofs are 100% recyclable and won't fill up landfills at end of life.
It weighs less than composition and tile roofs.
Depending on the type of metal roof you choose, your metal roof will last from 50 years to a lifetime.
It increases the energy efficiency of the building and makes it easier to cool your home.
One of the greatest benefits of metal roofs is their low-maintenance nature.
Metal Roofing Services
Standing seam metal roofs offer a versatile look and maintenance-free roof protection that out performs any conventional roofing system. Standing seam metal roofing panels, sheet metal trim, ridge caps & flashing are custom fabricated in-house.
Services we offer:
Standing seam metal roofs
Specialty trim work
Custom flashing
Specialty fascia work
Prairie Panel
On-site Fabrication
Our metal fabrication abilities have expanded to be a complete job site solutions for residential and commercial roofs. We chose to invest in on-site rollform equipment to better control quality, reduce waste, and have almost unlimited capabilities for custom lengths. On-site roll forming allows for custom panel lengths, reduces scratches due to shipping and handling, avoids missed pieces, and provides an impressive custom service that sets us apart from our competition.
Machines we employ include:
New Tech Machinery – Metal Rollformer
CIDAN – RAPIDO Shear
CIDAN – F30 Bender

Looking for more inspiration? Visit our roofing gallery or contact us for a personal consultation.